PERSONALITIES OF THE EXERCISE - 25
MRS. F. J. MARSHALLSAY,
Winchester and Portsmouth Diocesan Guild.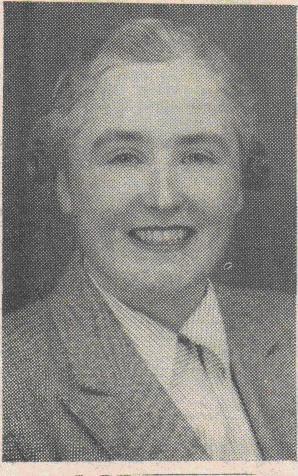 Those ringers who visit Bournemouth for their holidays - and they are many - usually find their way to St. Peter's belfry on a Sunday or practice night. On most of these occasions they will be greeted by the cheery smile of Mrs. F. J. Marshallsay (née Marcia White), who has the distinction of being one of the three lady ringers who have rung more than 600 peals.
Marcia was born in Bournemouth in September, 1909, educated locally, and was taught to handle a bell by Harry Bennett, the late captain of St. John's, Surrey Road, Bournemouth West, joining the local band there on Palm Sunday, 1929. Her first quarter peal was Stedman Triples on Sunday, December 1st, 1929, at St. Andrew's, Well Street, London, W.1 (now completely rebuilt at Kingsbury), and conducted by that well known Stedman expert, the late Challis F. Winney. Her first peal was Bob Minor at Corfe Mullen, Dorset, on July 12th, 1930, conducted by Edward G. L. Coward. On September 28th, 1930, she made her debut as a conductor, calling a quarter peal of Grandsire Triples, and her first peal as conductor was in August, 1931, when she called a peal of Kent T.B. Minor from the 2nd at Corfe Mullen. Thanks to the help and encouragement she received from the late William A. Cave and Joseph T. Dyke, she was, able to ring her first peals of Double Norwich, Cambridge and Superlative in 1932.
Marcia has always taken a great interest in handbell ringing, having been taught by the late Frederick W. Townend, of St. James', Poole. Of her 616 peals, of which she has conducted 75, no fewer than 402 (conducted 65) have been rung "in hand." These have included two record handbell peals, 13,139 Grandsire Caters in 6 hours and 34 minutes and 15,840 Bob Royal in 8 hours and 2 minutes, both rung in 1953 and both conducted by that handbell expert, Daniel T. Matkin. He also called several peals of Spliced Plain Major, in which Marcia took part. Many of her peals on handbells as conductor have been Grandsire Triples, in which she has usually rung 3-4, and she is very proud of 3 peals of Stedman Triples, rung "in hand," conducted by the late Alfred H. Pulling and the late Clement Glenn.
On tower bells, Marcia has rung a wide variety of methods, including peals of Spliced Surprise Major from 2-8 methods, and these have been accomplished by the combined efforts of William E. Cheater and Frank L. Harris, the result of regular once-a-month Surprise practices at Ringwood, at which tower Bill Cheater is captain. She has rung Stedman from Doubles to Cinques, and Plain Bob and Kent from Minor to Maximus. She was also the first lady to ring 100 peals in a year, a feat she accomplished in 1949. Marcia has been a representative of the Christchurch Branch on the Central Committee of the Winchester and Portsmouth Guild for over 10 years.
In 1939 she married Mr. F. J. Marshallsay, who has an important position in the motor industry, and is not a practical ringer. In fact she is one of the few active married lady ringers whose husband is not also a ringer! She is employed in the tobacco and fancy goods wholesale business, and her car has always been at the disposal of any visiting ringers who want lifts for peals or meetings.
When the ban was placed on ringing during the war in 1940, she took up golf as a hobby, but this had to take second place once ringing was restored! Apart from the odd golf spoon, nothing more can be shown from this sport!
Marcia Marshallsay is an extremely neat bell handler, an excellent striker, and is possessed of a very jolly personality. Although married to a non-ringer, she has shown that it is possible to be as enthusiastic as the best and yet maintain a happy married life. Her many friends will wish Marcia and her husband long life and continued happiness.
APACE.
The Ringing World No. 2618, June 23, 1961, page 421