PORTSMOUTH CATHEDRAL.
AN ANCIENT CHURCH.
Dedicated to St. Thomas of Canterbury, who before his assassination in 1170 A.D. presented the land for this purpose of the church, St. Thomas', Portsmouth, now the Cathedral of the new diocese, was completed and opened in 1180 A.D. It is a cruciform building with tower originally at the intersection of the transepts, but when the tower fell in the Middle Ages, it was rebuilt at the west end and the two cupolas of wood added. The bells (originally six) were cast from a ring of five presented by Queen Anne's Consort, and came from a Roman pharos off Deal. They were eventually cast into eight, with a 25½ cwt. tenor. These were recast and rehung by Taylor in 1912. An ancient peal board is in the tower as follows:-
'On July 30th, 1749, was rung by Ebanr. Hoare 1, T. Valentine 2, James Keet 3, Wm. Palmer 4, T. Wynn 5, T. Barlow 6, Wm. Bedford 7, Wm. Crocker 8. The whole peal of Grandsire Triples in 3 hours and 10 minutes, being ye firft 5,040 that ever was completead here. Mr. G. Antram, Mr. Ias. Deacon, Churchwarden.'
THE CATHEDRAL OF ST. THOMAS, PORTSMOUTH.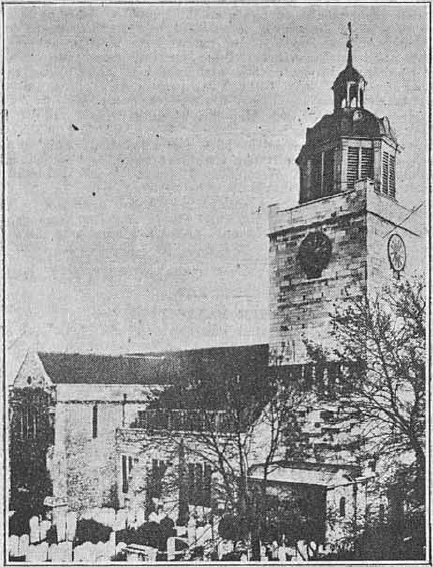 The bells, as a ring of eight, were first rung on December 21st, 1703.
Catherine of Braganza was married to her Royal Spouse in this church, and the original certificate is still to be seen. The beautiful stained glass was destroyed by the Cromwellian soldiery, and the architecture suffered somewhat by 'improvements' by the Puritans.
The tower was originally used as a watch and beacon tower, so that the appearance of pirates could be quickly communicated via Portchester Castle to Winchester, then the capital of England, and traces of the watchman's habitation may still be seen.
The heart of the Duke of Buckingham, assassinated by John Felton in the old High Street, is supposed to be preserved in a monument to his memory in the church.
The Ringing World No. 1036, January 30th, 1931, page 73