LEADING CONDUCTORS - 26.
FREDERICK W. ROGERS.
MR. FREDERICK W. ROGERS.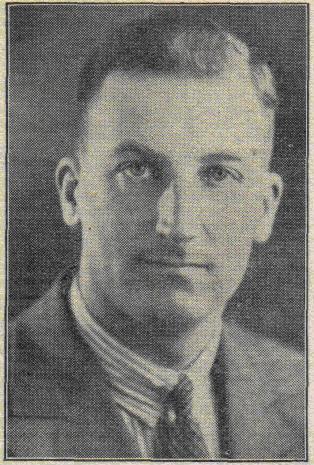 Among the men whom sheer ability has brought to the front rank as a conductor is Mr. Frederick W. Rogers, of Portsmouth. Attached to the tower of St. Mary's, Portsea, he has been largely instrumental in building up one of the most successful Surprise ringing centres in the South of England, and he has rendered, meanwhile, yeoman service to the Winchester and Portsmouth Diocesan Guild.
He began his ringing career about the end of the Great War, and scored his first peal, which was Grandsire Triples, at St. Thomas' (now the Cathedral), Portsmouth, on June 14th, 1919, but it was nearly six years, namely, on February 28th, 1925, before he conducted a peal, calling Superlative Surprise at Soberton, Hants. It was not, however, until 1928 that he took conducting seriously, and he only called that one peal in his first hundred. Then opportunities arose, through the encouragement and facilities offered by Mr. Keith Hart, of Brighton, where Mr. Rogers was a frequent visitor and he has gone to no mean achievements since.
The total number of his peals is 443, of which he has conducted 153 on all numbers from six to twelve. They have been rung in 165 towers in 25 counties and for 22 associations. No fewer than 303 of his peals have been in Surprise methods, and of these he has conducted 112. He rang in the first peal on the old twelve at Winchester Cathedral, and his first peal of Maximus was Cambridge Surprise on the same bells in 1929. He conducted the first peals of Yorkshire, New Cambridge, Lincolnshire and Pudsey Surprise Major by the Winchester and Portsmouth Diocesan Guild; also the first of Cambridge Minor for the Guild, and the first of Cambridge Major in the Isle of Wight.
He has taken part in a peal of Stedman Cinques at St. Paul's Cathedral, and he called the first peal of Yorkshire Surprise Major by the Ancient Society of College Youths. There are few ten-bell towers in Hampshire, and most of his conducting on ten has been done at St. Peter's, Brighton, nearly 50 miles from his home, where he has rung no fewer than 56 peals. For the Winchester and Portsmouth Guild and the former Winchester Diocesan Guild he has rung 204 peals.
But he has served his parent society loyally in other ways. He was formerly Portsmouth District secretary and recorder of peals, and is now the general secretary. He has also represented the Guild on the Central Council since 1933.
The Ringing World No. 1424, July 8th, 1938, page 443